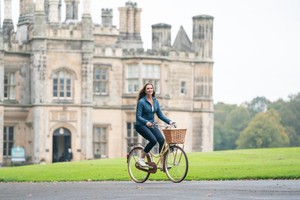 6/24/22 – To escape a scandal, a bestselling author journeys to Scotland, where she falls in love with a castle — and faces off with the grumpy duke who owns it.
Q-tips & adult kids say: Yes, see it!
 A comfy cozy, non-challenging film that filled with great things to look at, the handsome leads, the idyllic rural village and its colorful citizens, loads of Christmas décor and a sweeping, winter landscape.
A Castle for Christmas does something totally underrated: It gives us exactly what we want during a holiday season or not a holiday season.