8/8/22 –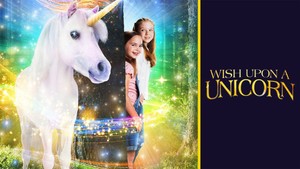 Two young sisters band together to save a magical baby unicorn from a group of cowboys.
Q-tips say: Yes, we did enjoy it. Cutesy, corny and little-kid friendly & mindless & gets your mind off the stupid headlines of everyday life.
However, parents need to know that Wish Upon a Unicorn is a kid-oriented comedy-fantasy designed to appeal to kids ( probably for kids over 10 years old +) who may display skepticism about Santa Claus and the Easter Bunny, but still want to enjoy and believe in the fantastic. Be aware that this family-centric story has a foundation in tragedy: Two young girls move from Chicago to the country with their dad after the death of their mother. A few mildly scary moments arise as a unicorn-napper tries to sacrifice and drink the blood of the mythical creature in his quest to gain eternal youth. Kids too young to see over the wheel and reach the gas pedal drive a truck off the road. No one is injured. Bullying at school. Language includes "hell," "crap," and "suck face," and two tweens kiss. Grandma Rose is caught sitting under a blanket kissing her boyfriend Bud.