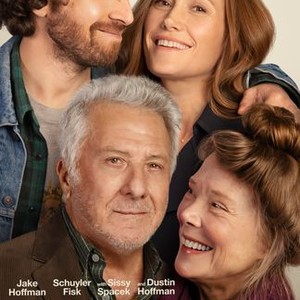 Dustin Hoffman and Sissy Spacek, Sam & Kate takes place in a small town in the heart of the country. Hoffman plays Bill, the larger-than-life father to Sam (Jake Hoffman), who has returned home to take care of his ailing dad. While home, Sam falls for a local woman, Kate (Schuyler Fisk). And at the same time, Bill starts to fall for her mom, Tina (Spacek). But finding love is complicated and for these four, it is no different. They all must confront their past in order to make their new love work for the future. Truly a family affair, art imitates life with the father/son casting of Dustin & Jake and the mother/daughter casting of Sissy & Schuyler.
Q-tips say: Yes, we did enjoy this movie. Two generations of talent provide the warmth and charm for this enjoyable romantic comedy. Parents and kids working together adds to an overall sense of niceness. Sam and Kate as its characters sort through challenges many people face in an ordinary world.
Mrs. Q says: No one wears a cape, but all four of these people are heroes. They've survived to this point overcoming personal obstacles. Now fate brings them together and it's not as obvious as you might think.