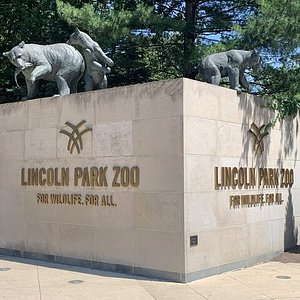 9/15/23 – Lincoln Park Zoo – 2001 N Clark St. Chicago, IL 60614, lpzoo.org – (312) 742-2000
Q-tips say: Yes, another enjoyable our visit to the Lincoln Park Zoo in Chicago. IT IS FREE! Everything is open even the Merry Go Round & Train. We went around 11:00 AM & it was feeding time for most animals so they were out and about & playing. Street Parking & they have a lot -which requires a fee.
Mrs. Q says: So, get off your fanny and put your cell phone away and go enjoy the beautiful weather outside & visit your four legged relatives at the Zoo. Instead walking around the hood again, go to Lincoln Park Zoo to visit your relatives.
Many negatives are said by some about Chicago, IL, but you can't beat the Free Lincoln Park Zoo/transportation/museums/restaurants, etc.
Chicago has great public transportation, the restaurants, Playhouses, Museums (do offer free days for residents & you can get free admission from some Public Libraries providing you have little ones with you). The wonderful ethnic neighborhoods and their restaurants. Navy Pier. The wonderful views of Lake Michigan & views of the cities, especially if you live on/near the lake.
PS: There is no Red Tide in summer or beaches closed due to poop.